FIVE NIGHTS - Dec 5 to 10 for 4: - HEART of the CHARLESTON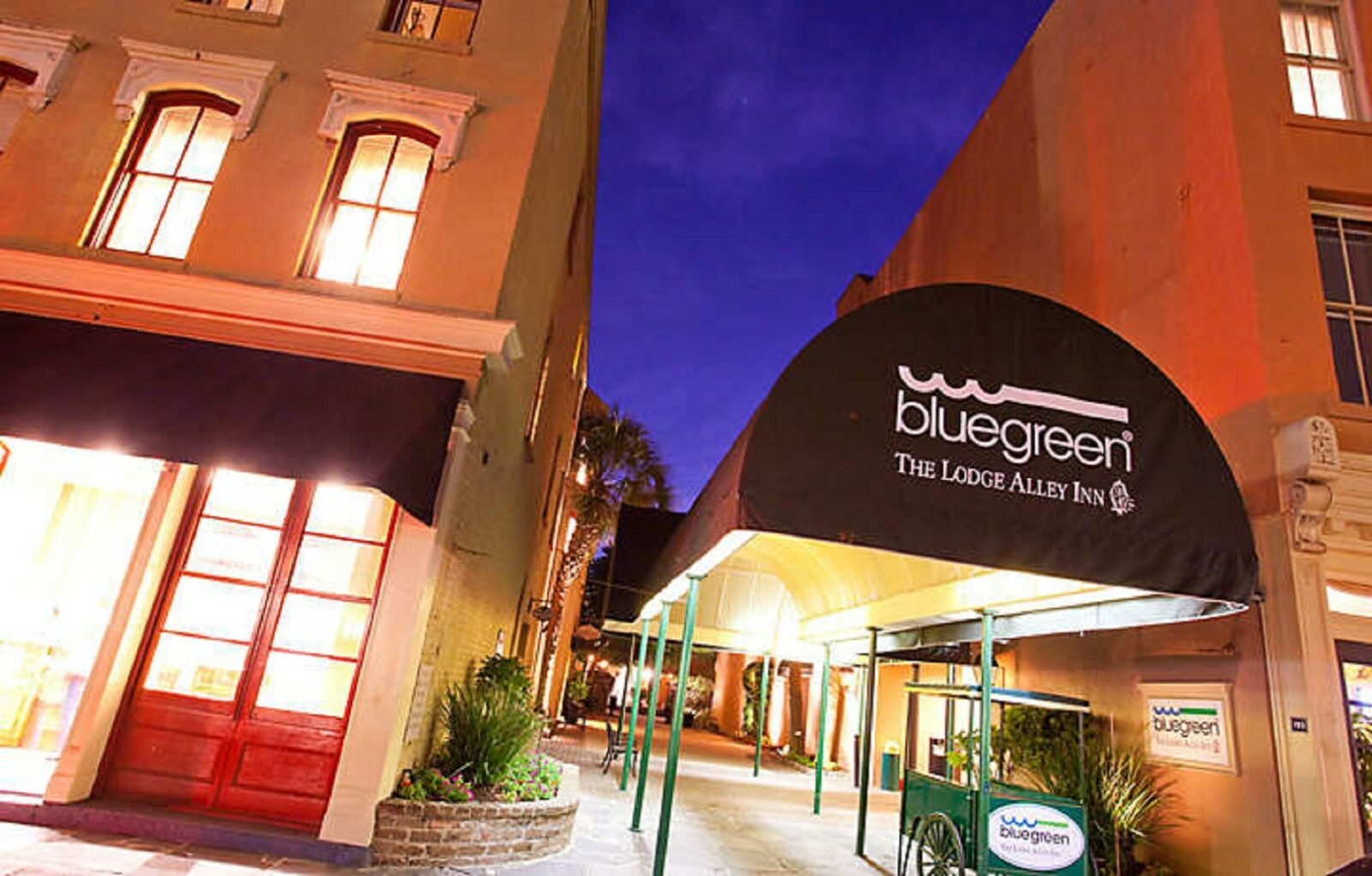 Description:
Takea step back in time at The Lodge Alley Inn. A collection of 18th centurywarehouses, the buildings have been restored to preserve their history whilealso providing modern-day comforts and conveniences. This Charleston landmark reflects its rich European heritage with its original pine floors andred brick walls, thick Oriental carpets, period reproductions and intimateparlors with fireplaces. The Victorian-style suites blend old-world charm inthe common living areas with modern kitchens and baths. TheLodge Alley Inn is conveniently located in the heart of charming downtown Charleston . Once the valetparks your car, let the concierge arrange an historic walking tour or ahorse-drawn carriage to take you around town. Aftersightseeing, return to the Inn forcomplimentary fresh-baked cookies and tea. For a four-star meal and anextensive wine selection, dine at the neighboring High Cotton restaurant, awinner of Wine Spectators 2003 Award of Excellence. THE LODGE ALLEY INN is in the heartof the Historic District in Charleston, SC., one block southof the Charleston City Market and slightly north of Broad Street. Walk to many of thevenues, dining, and evening entertainment. A eight-minute walk to thefree trolley can take you to many of the other sights in the downtownarea and up town. Take a twenty-two minute walk to The Battery and the AshleyRiver. 195 EAST BAY STREET CHARLESTON , SOUTH CAROLINA 29401 Check-InDate: Sunday December 5, 20 21 Check-OutDate: Friday December 10, 2021 Villa Size : Studio (1Q) Villa Description : 344-585 square feet (varies by unit) 1 Queen bed 1Sofa bed most comfortable for 2 children 1Full bath Kitchen:mini fridge, microwave, coffee pot only Gasfireplace Laundry is in Common area Max. Occupancy : 4 Lodging Price : $500 including taxes and fees ($100/night) Valet parking : $35 per day additional (seenotes below) or City parking : $18per day maximum (see notesbelow) The City of Charleston has issued a directiverequiring individuals to wear face coverings while in a public setting. Pleaseensure you have a face covering on while inside any common area, including registration. IMPORTANT NOTES: Minimum age for check-in: 25 Check-in: 4p.m. Check-out: 10 a.m. Costs paid by owner: The renters name; size of party (4 max) and home addressare required to register the unit. This information must match the picture IDof the renter at check in for verification. Rental confirmation number withcheck in details will be emailed after payment. Parking is extra , seenotations below. Any other charges are the responsibility of the renter(pay-per-view, etc). Depositrequired: Upon check-in, each reservation requires a major credit cardin the name of the renter for a $100 Pre-Authorization. Paymentschedule for rental: Payment in full at time of contract. Pre-checkin: Guests are welcome to arrive prior tothe 4pm check-in time. Anytime after noon, guests may complete pre check-inpaperwork, unload bags, and have their car parked by the valet service.When the room is ready, the resort will call the guests cell phone.Pre check-in helps avoid the long waits for check-in and valet service typical at4pm. Complimentary Sherry andcookies are available in the Heritage Club near registration weekdays at 4pm. Officehours: 24hours Nearestairport: Charleston International(CHS) Milesto resort: 13 Petsallowed? Nopets allowed. Subject to $300 fine Smokingpolicy: Nosmoking inside, or on balconies . Subjectto $300 fine Parking: Off-site valet parking is $35/day . This is inthe heart of the Historic District but service by the valet is quick and easy. One vehicle per reservation. Notrailers, RVs, motorcycles, or oversized vehicles allowed. The Concord publicparking garage is off Cumberland St. and behind the buildings across East BaySt (about 7-minute walk). From Cityof Charleston Parking website: All City parking garages are open 24-7 forvisitor parking. Parking rates are One Dollar ($1.00) for every half-hour (orportion thereof) of parking, with a maximum charge of Eighteen Dollars ($18.00)for every parking day. There are no in and out privileges. A parking day isMidnight to Midnight. Once a vehicle leaves the garage and re-enters, the rateclock re-starts. Please do not be surprised by computation of the rate duringyour stay. The maximum rate of $18 does not apply to a twenty-four hour periodfrom the time of first entry, unless a vehicle enters only at midnight andstays through the following midnight. Example1: (minimum public parking for the 5day stay at Lodge Alley) Vehicleenters garage at 4:00 pm on Sunday. Vehicleexits garage at 11:00 am on following Friday. Sunday- 8 hours x $2. = maximum of $16 Monday- 24 hours x $2. = maximum of $18 Tuesday- 24 hours x $2. = maximum of $18 Wednesday- 24 hours x $2. = maximum of $18 Thursday- 24 hours x $2. = maximum of $18 Friday- 11 hours x $2.00 = maximum of $18 Total = $106 Example2: (Each parking garage exit in the week will cost up to $18 extra) Vehicleenters garage at 4:00 pm on Sunday. Vehicleleaves garage at 11:00 am on Monday and Wednesday. Vehiclere-enters garage at 2:00 pm on Monday and Wednesday. Vehicleexits garage at 11:00 am on following Friday. Sunday- 8 hours x $2.00 = $16 Monday- 11 hours x $2.00 = maximum of $18 Monday- 10 hours x $2.00 = maximum of $18 Tuesday- 24 hours x $2. = maximum of $18 Wednesday- 11 hours x $2.00 = maximum of $18 Wednesday- 10 hours x $2.00 = maximum of $18 Thursday- 24 hours x $2. = maximum of $18 Friday- 11 hours x $2.00 = maximum of $18 Total = $142 Other notes: While Lodge Alley Inn does notoffer daily maid service, they do provide complimentary towel exchange forguests staying less than 7 days. The Lodge Alley Inn is in the heart ofDowntown Charleston. Due to the resorts urban location, guests may expect tohear street noise in exterior-facing rooms. The resort has white noisemachines, ear plugs, and box fans available on request to help lessen trafficnoise. "By listingthis auction, I verify that I am the actual travel agent or travel provider andnot a third party affiliate. The travel/accommodations in this auction will bebooked directly through me and not an outside agency. I also verify that, otherthan the government taxes and related government fees stated within the listingdescription itself, there will be absolutely no additional fees, charges or afterauction purchases associated with booking the travel within this listing."
Visit Our Partner Website
This listing was posted on another website. Click here to open:
Go to eBay
Important Safety Tips
These might be signs of fraud:
Really cheap prices
Irregular email adresses
Contact info in pictures
To learn more, visit the Safety Center or click here to report this listing.